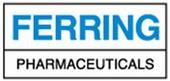 Ferring Pharmaceuticals Ltd.
Address:11/F, No. 111, Sung Chiang Road, Taipei, Taiwan - R.O.C.
Tel:2515-8277
Fax:2515-8276
President:
G.M.:
Establishment:1993(Taiwan)
Capital :
Employees:28
Ferring is a privately-owned research-driven biopharmaceutical company headquartered in Saint Prex, Switzerland with operations in over 40 countries and 3000 employees worldwide.
Ferring researches, develops, manufactures and markets pharmaceuticals and biopharmaceutical drugs that span the human life cycle and has in particular developed excellence in peptide and endocrine research.
Ferring operates in five key therapeutic areas: endocrinology, gastroenterology, obstetrics & gynaecology, infertility and urology.
For more information on Ferring, please visit www.ferring.com